There's a popular notion that writers never get rich. Unless of course, we're talking about authors of best-selling books. Generally speaking, though, not a lot of writers belong to that category. Most authors who have made it big in the industry started out as rich and famous.
Does that mean there is no future in writing? If you're an aspiring writer or have been one for some time now, don't lose hope. You may not become a billionaire becoming a writer, but you can definitely make money as one.
Thanks to the Internet, people with exceptional writing skills can now share their talent with the world with the click of a button and make money in the process. I'm talking about ghostwriters, blog writers, web content writers—writers who make money by offering their writing services online. In this post, I'm going to give you some tips on how to make money as a writer, particularly as a freelance writer.
What Is Freelance Writing?
A freelance writer works by writing on a self-employed basis. This means you are working as an independent business owner. The term "freelance" implies that you can work for as many clients as you can and get paid per writing assignment or contract. You can have a couple of high-paying clients with ad how tasks or even some with recurring projects.
As a freelance writer, you can call yourself as many ways as you want, depending on the type of writing services that you offer. For instance, if your focus is on blog writing, then you can call yourself a freelance blog writer or blogger. If your focus is more on providing optimized content for search engines, then you're an SEO writer. You can also be a content strategist if your work is more on managing content and delivering creative writing materials.

You've probably also heard of ghostwriting. No, this is not about writing horror novels or scary stuff. I'm talking about writing eBooks, white papers, or blog posts and officially credit your work to your client as the author.
Perhaps you're wondering whether a freelance writer needs a website. After all, you're simply writing for other people and not yourself, right? As someone who's been writing for a decade now, I would say that having your own website as a freelance writer has many benefits. As for me, I have a website that serves as my portfolio.
Most freelance writers I know also have their own blog sites. As a writer, blogging is an excellent way for you to exercise and improve your writing skills. You can also use it as proof of your writing prowess whenever clients ask you for samples of your work.
That said, I would strongly suggest that you set up your own website. Start by clicking this link and availing yourself of two FREE websites that you can start using as a blog site where you can showcase your writing skills.
Types of Writing Services You Can Offer
There are more than a dozen ways you can make money as a freelance writer. Blogging alone can already be a lucrative option. You have two options when it comes to blogging. One, you can blog for other people and get paid for your work. Many large businesses today incorporate a blog page into their company website. In terms of SEO, this is an excellent move because it helps establish brand authority and draw in high-quality clients.
Your second option with blogging is to establish your own blog site. I'm surprised to discover that many freelance writers don't own a website. Again, as a freelance writer, you need to have space online for your portfolio, as well as space where you can showcase your skills. Not to mention that owning a website can help you make money through affiliate marketing.
Aside from blogging, another way you can make money as a writer is by writing for online magazines or publications. If you love writing articles that are more journalistic or formal in nature, then this is a good option for you.
Keep in mind, though, that almost all publications don't accept submissions from outsiders. What these companies do is hire and train their own writers. If you wish to pursue this path, you can do so, although that would defeat the whole "freelance writer" idea.
Alternatively, you can track down the editor of the publication you want to write for. Message them and ask if they are looking for a specific material for a particular month or quarter. Another path you can take are social sites.

Write for social platforms first like Medium or Quora. Many publications look for article pieces from these sites. The reason is that they want to be sure that an article performs well. What these publications do is re-publish performing articles from social sites.
Making Money With Blogging
I want to dedicate a section to blogging because it's one of the best ways freelance writers can make money online. I've already mentioned that a blog can serve as your portfolio. Aside from that, blogging can also help you develop your writing skills. Having a blog is also a great way to generate leads, meaning, it will help you to attract clients.
Having your own blog site can give you confidence as a writer. It can also help build credibility in your particular niche. Blogging can also help you earn money through various monetization strategies. All of this in addition to the fact that blogging can offer you an outlet for your creativity.
The great thing about blogging is that it's pretty easy to start one these days. There are now a lot of hosting services and website builders that can help you start a blog within hours. For writers out there who wish to start their blog page today, I suggest you sign up with Wealthy Affiliate right here and receive your free websites. Not only does Wealthy Affiliate have a user-friendly website builder, but it also has a powerful domain management service.
Now, in building your blog site, I suggest that you add a Hire Me page. This is where you tell your prospective clients what you do as a writer and why they should hire you. Don't forget the Portfolio page. This is where you post samples of some of the greatest works you have done in the past.
An About Me page is also important. Here, you will add information about you and how you can help your clients. You can also add a Testimonial page where you can place testimonials of previous clients you've worked with.
Various Tips
Now, here's an honest truth: Not every niche is profitable. You can make money writing on different niches, but some niches are simply bad. Likewise, not every writing service that you can offer will bring in huge profits. The good news is that there are a lot of niches that will pay you well.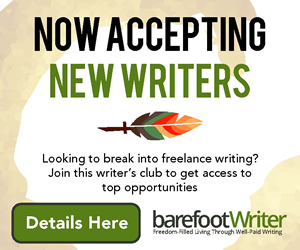 One of the first things I always tell people who wish to make money online by writing is to find a niche they are passionate about. But of course, this doesn't work all the time, especially if we apply the principle that not all niches are high-paying. That's the reason I also tell them to find a compromise between something they're passionate about and something that will surely pay them well.
Once you've established what niche you'd want to write for, your next step is to figure out your ideal client. This goes hand in hand with the niche you've chosen. If you've chosen the health niche, for instance, start building your portfolio writing health-related articles. If you're an entry-level writer, you can expect your pay to be low in the beginning. Once you've established yourself as a professional writer, clients who are willing to pay more will find you.
This should give you the idea that making money as a writer doesn't happen overnight. Stay away from people who say they can teach you how to make money as a content writer quickly and easily. For most freelance writers, it takes at least a year or two to build a good portfolio and establish a reputation. The good news is that once you've made a name for yourself online, clients and projects will just come pouring in.
Conclusion
I'd like to say this again: Making money as a writer doesn't happen overnight. It takes a great deal of perseverance and even good fortune to start establishing yourself as a profitable writer. I hope this guide on how to make money as a writer hasn't implied otherwise.
My goal here is to help aspiring writers establish themselves online and not offer a get-rich-quick strategy. I also want to tell you that there is more to becoming a successful writer than the tips I have shared here.
One aspect of being able to make money through writing is to learn even just the basics of SEO, affiliate marketing, and digital marketing as a whole. For that, I would recommend that you get yourself trained by Wealthy Affiliate, just as I have. Wealthy Affiliate has been helping people establish their online business for over a decade now. Click this link to go to their page right now.