Have you ever thought to yourself… I would love to be a Copywriter but I really don't think I'm a good enough writer to pull it off and be successful at it?
And… I hear all of these horror stories about starving writers working as servers or doing menial jobs just waiting for the big break. Their ship to come in so to speak.
Well I have news for you, every single copywriter out there thought exactly the same think you're think right this very minute.
Now some of those stories may be true if you are a novelist, screenwriter or
working for a newspaper just making ends meet while working sixty to eighty hours a week.
Start Living The Writers Life Today
Everything they write must have perfect grammar and punctuation or the boss threatens to replace you by ten other so called writers looking to take your so called job.
My definition of JOB is "Jackass Of The Boss" Sorry if I insulted some of you, but suck it up because you know it's the truth.
These folks aren't copywriters they're slaves.
Being A freelance writer gives you total freedom to work when and when you desire
Enjoying the writer's life, living where to want to live and working from home or wherever you please and being able to write about things to already love.
The kind of writing you will be doing as a copywriter is conversational. You write just the way you would speak to your friend across the kitchen table or while riding in the car.
These are the folks that are make $10,000 to $15,000 each and every month and it doesn't take a fancy college degree in journalism or any degree for that matter.
Most English Majors Aren't Good Copywriters
Copywriting is proven time and time again to be the best opportunity for writers to make a great living …
No other writing opportunity has the potential to help so many aspiring writers make a living doing what they love, while enjoying the lifestyle they've always dreamed of.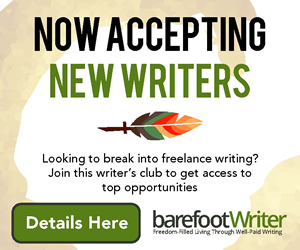 The challenge, however, when navigating the path to copywriting success, is deciphering what's real and what's simply a myth.
20 years ago copywriting was a closed profession. You were led to believe that you had to be some sort of genius with years of experience.
That is definitely a myth…
after all, there were only a handful of Copywriters earning seven-figure incomes in the entire country at that time.
The heavy hitters like Mark Ford, Bill Boner, Bob Bly and few others like Paul Hollingshead and Don Mahoney.
What did they know that the rest of us didn't why were they so successful and the rest of us struggling to make ends meet.
The Key Was proper training that could be completed in just a couple of months not years AND you could be earning while you were learning.
If you enjoy reading and writing, it's possible to make a very good living as a writer — even if it's just part-time.

You can write from home or the beach. I happen to be writing this from Starbucks in Brooksville Florida where I spend a few hours each week relaxing and enjoying a Venti Latte.

The biggest myths I hear used as an excuse for not getting started are…

"I'm not ready yet…"

"My copy isn't good enough…"

"Client will know I'm not good enough.


As long as you have a foundation in persuasive writing, your copy is probably "good enough
Sure, you'll get better and better as time goes on and you gain more experience.
But that doesn't mean you need to wait to start getting paid to write copy.

There are literally hundreds of thousands of companies who would gladly pay you to write their sales letters, emails, online ads, video scripts, e-newsletters, landing pages, social media updates, website copy, white papers, case studies, online content, blog posts … the list is quite extensive.
When it comes down to it, you don't have to be an expert to make a great living as a copywriter. You don't have to know everything.
You just have to know more than your client knows
Sure there are specific formulas to learn and we will teach you every one of them.
These simple rules when followed will make you a GREAT Copywriter not just a Good one.
Rules like…
4 Ps of Copywriting 1. Promise 2. Picture 3. Proof 4. Push
4 Cs Content 1. Capturing 2. Claim 3. Convincing 4. Close
Plus a few other rules you'll be using….
Most people don't know that as a copywriter you can make more money than most of the doctors and lawyers do and you don't have to be on call at all hours of the night and spending 20% of your income on malpractice insurance.
And. You don't have to wait 2-5 year before you start making great money
I'm not saying it's easy because this isn't for everyone. It takes work and not everyone is willing to sacrifice a couple months of learning for a six figure income.
As lucrative, as it is some people just want instant gratification.
Even
Let's be clear about this "There Is No Free Lunch"
Myth…The Six-Figure Path Is An Easy One
This takes dedication and work…

That being said we've removed the stumbling block for you so you can start earning quickly.

Just like Kathy Wade for California she earned $ $123,543 her first full year as a copywriter

Brian Johnston also earning just over six figures his first year.

Remember they were both doing this full time at this point
So, yes …
It CAN happen in your first year. But for most of these writers, it comes with some related work experience like marketing or sales, a good network of contacts, a little luck — or a combination of all three.
But that's okay!
It may take you two years … even three years … to hit the six-figure mark while you are build you name and reputation in the business.
It will all depend on where you're starting now, being clear about your goal and how you'll approach it, and how much time you can invest.
Lastly, I want to debunk the myth that, in my experience, is the #1 reason most aspiring writers don't move forward toward their dreams.
They like that steady paycheck every two weeks.
The idea of their income going up and down month after month as a freelancer stresses them out.
Chris Rosado had a full-time job she actually enjoyed. But he wanted to make more money, while ultimately working fewer hours.
At first, he took on a few copy clients in her spare time, while she kept her full-time job.
Chris soon realized he could replace her entire salary working only 20 hours a week at copywriting, by adding her employer to her client roster and quitting the full-time job.
Both copywriters … totally different paths and versions of the writer's life.
So, don't let the fear of "going freelance" hold you back. It doesn't have to be an "all-or-nothing" decision.
Here are a few things you can do to get started …
Start small, taking on a project or two on the side.
Approach your employer about a more flexible work schedule.
Ask if you can help your present employer grow their business by writing copy for their website, social media, or other marketing channels, and then use the experience and samples down the road when you're ready to take on other clients.
Consider moving into a part-time position to allow for some steady income, while at the same time, freeing up time to work on building your copywriting side business.
One day down the line, you may decide you WANT to go 100% freelance.
Especially if the clients and projects are abundant, and you simply don't have any time because of your j-o-b.
Or, you may be happy to do copywriting on the side …
Or, you may change jobs to become an in-house writer.
My point is this …
The life of a copywriter is not one single path. It's completely flexible and can give you as much freedom and income as you want.
So, don't let fear hold you back.
If you want to make a living as a writer, copywriting is definitely the best opportunity available. You can live where you want, work the hours you want, make as much money as you want, and live the life you want.
Sure, it takes work …
But, so do most things in life that are worth anything!
And now that we've debunked these myths, I hope I've removed some roadblocks that were potentially in your way.
The B2B (Business to Business) side of the business is one of the most lucrative sin companies are always looked for writers that…
Write great content for their…
Websites
Emails
Newsletters
Brochures
Press releases
Direct mail letters and self-mailers
Advertising — print and online
Online video scripts
Social media writers and updates
Blogs
PowerPoint sales presentations
Sales proposal templates
Model letters and emails for sales staff
White papers
Case studies
In fact, there are more than 5 million B2B companies in the United States and Canada alone. (So it's almost impossible to run out of prospects!)
Conclusion
I've put together a proven program that will teach you how to become a great copywriter without spending a lot of time and money, and without any of the headaches and frustration you'd experience trying to figure it out on your own.
Register now and Start Living "The Writers Life"
To your success,
Richard