Email marketing is one of the most invaluable strategies you can employ when you're doing affiliate marketing. It allows you to do different things that award your efforts, such as build relationships with leads and customers.
It also lets you communicate with them directly at a time that they find the most convenient. When done correctly and with the right tool, email marketing can be one of your most effective channels.
And when it comes to email marketing, an autoresponder is your best friend. They don't only save you time, but they also help you get a higher response from your audience.
But what is the best autoresponder for affiliate marketing? In this post, I will give you two of my favorite email autoresponders and the reasons why you should also invest in them.
But first, let me give you some tips on how to choose an autoresponder.
How To Choose An Autoresponder
There are three primary things you need to consider when choosing an autoresponder.
The first one is the company's credibility. How long the company and the tool they're offering has been in the industry is a huge factor you must take into account.

When a company has been around for a long time, it means it has already built a rapport with the largest email service providers, including Gmail and Yahoo.
This means these ESPs trust that company, and the probability of your emails being thrown into the spam folder is significantly decreased.
When choosing an email autoresponder, look for a company that has been in the business for at least seven years. Don't opt for a provider that hasn't been around for at least that long, or you'll be at risk of having your emails sent directly to the spam folders of your recipients.
The second factor you should consider is deliverability. 
This is a very vital specification you have to consider when deciding which platform to partner with. How effective your email marketing efforts will be will largely depend on your ability to reach your subscriber's inbox.
Only a company with a good reputation has efficient deliverability. 
Browsing around their website won't immediately tell you how good they are in terms of deliverability, so you have to do some extra research to make sure they can give you at least a 90% rate in that area.
The third and final factor you need to consider is the user interface. Most people overlook this aspect a lot of times, but one way you can tell how good the quality of a service is by looking at the quality of the company's website.
If the website itself is unappealing and makes it difficult for you to navigate and sign up, there's a huge chance their service is just as inefficient. What you would want is a provider that makes things easier for you and not complicated.
The good news is that there's a company that can provide all these for you. Click here to find out more.
Now, in the following section, I'm going to show you two of my personal favorites when it comes to autoresponders. I'm talking about Constant Contact and AWeber.
I have experience using both, and I am going to share with you what I love (and maybe don't like) about these two services.
What Makes Constant Contact A Good Choice?
The fact that Constant Contact has been around for more than twenty years shows that it's a very reputable and reliable company.
Over the years, they have added several features to adapt to the needs of users. In terms of their autoresponder tool, Constant Contact offers a user interface that's both powerful and easy to use.
This makes it super fast and easy for non-tech-savvy users to create new emails and newsletters. The tool also provides several options for customizing emails with links, images, buttons, and more.
What makes Constant Contact very interesting is the fact that it's more than just an autoresponder or an email sending service tool.
It also lets you do campaigns that include A/B tests, surveys, and event registration. Each of these campaigns can add significant value to your business, and Constant Contacts knows that.
In terms of email templates, Constant Contact provides many options for you to choose from. 
Whether you're looking to send a personal note, a follow-up email, or a bulk newsletter, you can rest assured that there's always a template that's perfectly designed to meet your needs.
Constant Contact also allows you to further customize these templates, which is very helpful as it helps you establish an identity that's unique to your brand.
Constant Contact offers two types of plans, the Email, and Email Plus. The Email plan begins at $20 per month and can accommodate 500 subscribers, while the Email Plus plan begins at $45 per month, also for up to 500 subscribers.
The only difference about the Email Plus plan is designed for companies with more complicated needs. It offers A/B testing, event marketing and registration, automated email series, and even online donation.
Constant Contact has a trial period of 60 days, which includes unlimited campaigns.
Trying out the tool is an excellent way to get to know its features better.
If you're ready to upgrade, you can do so anytime, and you can rest assured that all your data during the trial period will still be available. To try Constant Contact today, click this link right now.
What Makes AWeber A Good Choice?
Just like Constant Contact, AWeber has been in the industry for two decades now. It can even be argued that it was AWeber who developed the concept of an email autoresponder.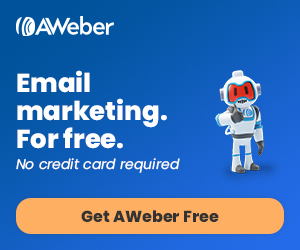 And just like Constant Contact, AWeber is not your ordinary autoresponder tool. It also lets you do A/B testing and split testing. What I particularly love about AWeber is that it's very easy to set up and use.
Creating a list and maintaining it with AWeber is not as complicated as with other similar tools. The process of setting up an autoresponder is pretty straightforward.
Even if it's your first time using the tool, it won't take you really long to set it up and start using it. That's because a step-by-step instruction is provided for you.
Another impressive feature I love about AWeber is that it's very easy to integrate with plugins. It may be a simple tool, but it's very powerful. It can be integrated with WordPress, for one, and it gives you the option of installing the codes on your own.
AWeber can even do it for you should you choose that option.

Finally, AWeber provides very comprehensive analysis reports.
AWeber lets you see a complete report of your stats at a quick glance on your dashboard.
This allows you to see quickly how many subscribers you have, as well as how many have clicked and opened your emails. And of course, there's the RSS email feature that automatically sends your most recent posts directly to your subscriber's inbox.
Want to try AWeber for yourself? Just click this link right here.
The Verdict
Constant Contact and AWeber have very similar features, features that any business large or small will find very valuable. I would recommend either of the two considering both tools provide strong automation capabilities.
What I love about Constant Contact is that it offers a 60-day free trial, which is very useful if you're new to email marketing and would want to have a feel of what such a tool could offer.
Meanwhile, AWeber offers pricing tiers that are very affordable.
It also provides users access to each feature notwithstanding the number of contacts. This allows businesses with fewer contacts to use the tool without having to exceed their budget.
Perhaps the main advantage of Constant Contact is that it offers hands-on training, which is something Aweber doesn't offer.
Also, while AWeber email marketing pricing plans may seem to be more affordable,
Constant Contact offers a huge discount on annual payments. This makes it a more suitable option for much larger organizations, or even for high-growth medium- and small-sized businesses with more sophisticated email marketing needs.
Conclusion
As someone who has used both Constant Contact and AWeber, I wouldn't hesitate to recommend both to anyone asking "What is the best autoresponder for affiliate marketing?"
However, if you're going to ask me what my first choice is between the two, I would say it's got to be Constant Contact. Again, both are very good tools, but Constant Contact is what has worked for me over the years.
Perhaps you should also try both to find out which one suits your needs the best.
The reason is that there may be features that AWeber could offer your organization that Constant Contact can't. In the same manner, there might be some things you will like about Constant Contact that AWeber isn't able to deliver.
If you want to find out what else Constant Contact has to offer, just go to this page right now and sign up for a free trial of 60 days. And then let us know in the comment section how it went for you. Cheers!