Making money as a freelance writer is easy when you understand the insider secrets. More importantly, it's enjoyable and an endeavor that's worth one's time and passion. I've been writing online for over a decade now, and over the years, I have learned a lot of things that have helped me become the writer that I am today.
What I love about being a freelance writer is that it's a very flexible way to earn money. It also allows me to work on a diverse range of writing projects, which means I am not stuck writing one type of project, which gets boring in the long run. In this post, I'm going to share some principles that will help you establish a freelance writing career and make money in the process.
Establishing Experience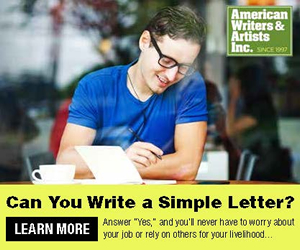 No one becomes a successful freelance writer overnight. Freelance writers who are earning six figures had to start somewhere. You're lucky as a writer if you get paid a good amount for your first project or two. I'm not saying that it's not possible, but I also want to tell you that things are usually challenging when you're just starting.
When it comes to getting started, a lot of writers have no idea how to start. I understand that you need to build a portfolio if you wish to get noticed, but at the same time, you won't be able to do that if you have no writing experience. That said, when you're just starting, don't worry about building your portfolio first. What you want to build during this period is your experience.
One of the best ways to get started as a writer is to create a profile in an online freelance marketplace. You can't expect to get paid that much when you get your first writing project, but everyone has to start somewhere. Aside from looking for clients in freelance marketplaces, you can also try reaching out to bloggers who might be open to guest posting. You can pitch your ideas to them and hope that they will like your work.
It's not uncommon to write for free when you're just starting. Others do this just to establish a name for themselves. You're not going to write for free for the rest of your life anyway, and once you've built a portfolio, you'll realize that it was all worth it. Perhaps you're asking whether you should receive professional training before you can succeed as a freelance writer. I would say no, but it could help you big time.
One of the best things about becoming a freelance writer today is that there are now tons of online courses that can help writers develop their skills. This course right here, in particular, is designed for writers who wish to learn how to do copywriting, which, by the way, is one of the most lucrative businesses writers can consider.
Deciding What Type Of Writer You Want To Be
Once you've gained enough experience and have started to build your portfolio, your next step would be to decide what kind of writer you want to become—in short, what types of clients you want to write for.

The Internet world is called the World Wide Web for a reason. It's wide, it's massive, and the type of content it can offer users is just unlimited. This is an advantage for you as a writer because it provides you a wide range of options in terms of what kind of material you want to write.
Web content is one of the most popular types of content freelance writers work on. It can range from micro copies to blogs to social media content to white papers and full-length articles. Also, the categories can be narrowed down further depending on specialty. You could focus on copies related to technology if you want to, or maybe finance and business. The more popular ones today are those related to health and medicine.
Speaking of business, you could also choose to become a business writer and tackle reports, press releases, pamphlets, white papers, speeches, business proposals, and the like. A little advertising might also work for you. It's true that a lot has changed in terms of how businesses operate today. The Internet has allowed businesses today to use different media when it comes to communication. What has remained the same, though, is the fact that businesses still require professionally-written copies to remain competitive.
How about venturing into technical writing? Pop articles are all over the web these days, but that doesn't mean there is no longer any room for technical writing. Nothing could be further from the truth, because the demand for technical writers will always be there.
If you excel at taking technical descriptions and translate them into terms that any reader could easily consume, then this job is perfect for you. What technical writers often focus on are user manuals for software and hardware, as well as procedure manuals for robotics and engineering, although technical writing covers a wider range of topics.
The Importance of Having Your Own Website
I seldom meet a freelance writer who does not have their own blog page or website, and I am surprised that they even exist. I can't imagine not having my own space online where I can express my thoughts and feelings through writing. Not to mention that having a website will help me not only draw in more clients to write for, but also give me an opportunity to earn some cash on the side.
One of the main reasons you should have your blog if you're a freelance writer is that it's going to be your platform for reaching people. If you plan to approach editors and agents later on, having a blog with hundreds or thousands of readers can significantly increase your chances of getting accepted.
When clients look for writers, the first thing they ask for you are samples of your work. Instead of sending them several files of previous work, you can simply send them a link to your blog page, which is convenient for you and for them.
Another great advantage of having your website as a freelance writer is that it helps connect you with other writers like you. I know blog pages have become increasingly professional over the past few years, but there are still a lot of writers who blog just to share what's on their hearts and mind. Writing can be a lonely profession, too, and blogging can be your way of being a part of a community of writers you can share your life with.
Looking for a great website builder to start your blog? I would recommend you sign up with Wealthy Affiliate FREE. Not only will you receive a free website upon sign up, but you will also avail yourself of relevant training to help you in many aspects of freelance writing.
The Importance of Continual Learning
My final thought that I'd like to share with you if you want to make money as a freelance writer is to never stop learning and improving your skills. In the next several years, you will become a terrific writer, and much more experienced than you are today. But even when you begin receiving appreciation and recognition for your talent, decide not to stop learning and taking your writing skills to a higher level.

Ideas are ideas and words are words, but what you do with them is what matters most. You may have the idea in your head right now, but without proper knowledge on how to put that idea into reality, it will only go to waste. What I mean is that not all types of writing projects pay the same thing. You may be making lots of money writing blog articles today, but a new project will come up that will be able to pay you double or triple, and you have to be ready when that time comes.
Moreover, it's not the type of material you're writing that matters. What matters more is your experience and your skills. You may be a writer of ten years, but a young writer of two years will be able to get more projects than you because she has more skills that she developed by investing in training courses. My point here is to always find ways to learn new skills to add to your arsenal.
Conclusion
Making money as a freelance writer is really quite simple. All you need is to build your experience and your portfolio and make sure you invest in training courses that will help boost your skills as a writer. One training course I would highly recommend is that of AWAI or the American
Writers & Artists Institute. AWAI is dedicated to teaching freelance writers how to begin making money, find the right job that suits their skills, and build their own freelancing business. I have tried this course myself, and I can assure you that it has helped me significantly as a writer. If you wish to avail yourself of this writing course, too, simply visit this page right here.