Start Living The Writer's Life Today
Whoever said there is no money in writing, that's a huge myth. The truth is that you can make money—lots of money—as a writer. In fact, you can make enough money to work and live the way you want,
The way a lot of people want. It could mean different things to different people, but my point is that there are many ways to make a living as a writer. The good news is that most of these opportunities do not require a lot of investment, and you won't usually have to wait that long to see the return.
Let's Look At Nine Different Ways To Become a Wealthy Writer
Become A Content Writer

If you're reading this right now, there's a good chance that you are already a content writer. And yes, writing content for digital marketing purposes is one of the best and simplest ways to make a living as a writer. I myself have been a content writer for a decade now.
Now, if you're not a content writer and wondering what content writing is, it's simply what it says it is: writing content. Content here refers to anything contained in a website, whether it's a blog post, an article, a product description, or even a script for a video or podcast.
The good news is that as long as websites and digital marketing exist, there will always be a demand for content writers. And if there's one place to look for content writing opportunities when you're just starting, it's freelance marketplaces.
A Very Highly Paid Copywriter
Just like content writing, copywriting is here to stay as long as the Internet is alive.
The only difference between the two is that while content writing is primarily writing to convey information, copywriting is more focused on convincing readers to take action, such as to sign up for a membership or purchase something from a website.
Since copywriting is not your regular content writing gig, does it mean it requires some kind of qualification?
In terms of qualification, there's only one thing required of you if you're going to be a copywriter, and that is to get trained on how to do it. You can be an excellent blogger or eBook writer, but that doesn't mean you're automatically a good copywriter.
Copywriting requires that you know how to arrange words that will convince people to buy something from you. And speaking of training, the best course to take to become a Copywriter is the AWAI Copywriting Course.
Resume Writers Are Raking In The Cash
It's not a secret that the Covid-19 pandemic has cost millions of people worldwide their regular jobs, so if there's a best time to become a resume writer, it's NOW.
The thing is that not a lot of people are skilled at crafting a well-structured resume. That's where resume writers come in.
And yes, the demand for resume writers is gradually growing. Believe it or not, people are willing to pay between $100 and $300 for a well-written resume if they know it's going to increase their chances of getting a new job.
That said, with resume writing, you may not have new clients regularly, but since the pay is good, it can already be a good source of additional income
Guest Blogging Pays Extremely Well
Guest blogging is an excellent way to make a living as a writer, but I have to be honest and tell you that it's not an easy scene to break into. Nevertheless, once you've entered the scene, you will find that it's going to be easier to get new projects moving forward.
The key to guest blogging is relationships. Over the past several years, established blog owners have been overwhelmed by the number of pitches they get from writers who want to guest post.
As a result, it seems that guest blogging has become a club exclusive to those who were able to join first.
The good news is that it's still possible to be a guest blogger these days, and that is by building relationships with influencers who wish to partner with. It may take a while, but you will know that it's going to be worth it.
Start Your Own Self-Publishing Business
I'm not talking about publishing an autobiography or a novel here. By self-publishing, I'm talking about publishing any material from books to DVDs to newsletters to calendars.

Whatever you wish to publish, in fact. This business may require an investment, but it's rather small, and it's up to you how much you want to invest based on how much work you're willing to put into it and how much you wish to earn.
I'm not going to go into the details of how to start such a business, but there are two things I can share with you as advice, and those are number one: to just start writing, and number two: to write as much as you can about the things you're interested in
Be A Grant Writer
I know a lot of people don't know this kind of gig exists, but yes, it does. In fact, it's one of the most rewarding opportunities for writers out there. If you're not familiar with grant writing, you're not alone.
Grant writing is simply writing a grant proposal for a group or organization in need of money. For instance, a school board is in need of a brand new set of equipment for the computer laboratory or the library.
Your job is to write a proposal and make sure it's sent to the appropriate government foundation or organization offering grants for schools in need of a technology upgrade.
Not only that. As a grant writer, you can craft grant proposals to help someone get back to work, get a child a better education, and even help a single mom raise her child well.
Start A Money Making Website
I wouldn't say this is the quickest way to earn money as a writer. However, we're talking about making a living here, and having a website is a great way to make a living when you're a writer.
Beyond making money, having your own website will give you the opportunity to learn more about a topic you love. It will also not only make you a better writer but will help you expand your online business skills at the same time. So, how do you make money with a website?
Well, there's Google AdSense, which is one of the most popular ways to make money from a high-quality website. You can also do affiliate marketing. Of course, you can always sell your own products with your website as your platform. Speaking of websites and affiliate marketing, visit this page to know how to become a successful affiliate marketing and receive two free websites in the process.
You Can Be A Technical Writer
Technical writing is not an ordinary writing job. It requires a specific set of writing skills, much like copywriting. Technical writers craft documents, user manuals, and other forms of written communication about specialized topics, such as computers and computer applications.
The US Bureau of Labor Statistics projects that the demand for technical writers will grow 10% between 2014 and 2024. It's not necessary for you to have a Bachelor's degree in order to become a technical writer, although that would be a huge advantage and will increase your chances of landing projects.
Certification is optional, too, but that will also help boost your qualifications. Depending on the size of the contract, technical writing can make you earn between $150 and $500 per project.
Write and Sell E-Books
The Internet has really made it easy for writers to sell books these days. For instance, you now have Amazon's Kindle Direct Publishing that allows writers to self-publish eBooks and paperbacks alike.

I know a lot of people are more into watching videos and listening to podcasts, but most people still prefer to read. Take advantage of this fact and make money writing and selling eBooks.
If you already have your own blog site, that can be an advantage because you can use content in your blog and compile them into an eBook. You can then sell it via Kindle by Amazon or other distribution platforms, such as Lulu and iBooks.
Conclusion
These are just a few ways to make a living as a writer. There are actually a hundred more. Or even more than that! What I love about being a writer is that there's just no limit as to what you can write about.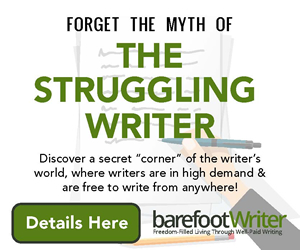 Most importantly, there's just no limit as to how you can make money as a writer! As I've mentioned, some writing gigs don't have a lot of requirements, but if you want a writing opportunity that will help you make six figures, then you really need to consider getting trained.
Copywriting, for instance, involves a different set of writing skills, and not everyone can do it. But that's where AWAI's Copywriting Course comes in. If you're interested in becoming a copywriter and potentially earn hundreds or even thousands of dollars, I would highly recommend that you take advantage of the course offered by AWAI. You can do so right now by clicking this link!